Exclusive

Interview
with Jazz Singer
Thisbe Vos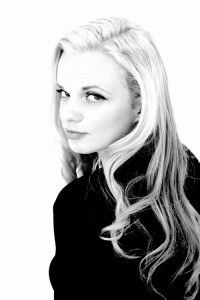 Interview from June 2012 (formerly added to my website "The Official Renee Olstead Fan Club")
Stefan Lang: Hi Thisbe, representing the Renee Olstead Fan Club, I'm very happy that you give us the opportunity to talk to another young singer who fell in love with Jazz, which is a rather unusual music genre for young people. When, why and how did that happen?
Thisbe Vos: You know, I grew up in Holland, and there wasn't much jazz on the radio stations that I listened to, which was mainly oldies stations going back to the fifties. I really came across jazz by accident, like in commercials on TV, but as soon as I heard it I thought to myself "wow, this is great", and I would try to find out more about the songs and the singers. I also started learning about jazz a little more in high school, because there was a school orchestra and there was another girl who would sing old standards on talent nights, etc. But as soon as I heard it, I knew that it was for me. I was a "jazz girl" from then on.
Stefan: Renee's career began when she was very young, she was only 11 years old; as a Texan on her first two albums she sang country music, later she changed to Jazz. What kind of music did you start with?
Thisbe: When I was a kid, I would always sing along at home with the radio. When I was four, it was a Dutch pop singer, when I was seven it was Madonna – and I also really liked Michael Jackson. When I was seven I also took part in a Dutch singing competition for children, singing childrens' songs. I think I was about eleven or twelve when I discovered jazz. Since then, that was pretty much my thing. I did a little bit of jazz singing in high school and when I was seventeen, I went on tour with British swing band "The Jive Aces" and that was the first time I started singing professionally.
Stefan: Renee Olstead learned to love jazz when her best friend's mother introduced her to the music of Ella Fitzgerald. What or who influenced you and your music?
Thisbe: I am also a great fan of Ella. I can't remember if I heard Ella first or if it was Dinah Washington, but over the years I got to hear more and more of Ella and she is absolutely my favorite singer. Sometimes, as a teenager, when something upsetting would happen that got me into a bad mood, I would put on an Ella Fitzgerald CD and within a few minutes I would feel totally great again. That was one of the things that really got me wanting to write and sing jazz myself, I like to make uplifting music that can help you put things into perspective sometimes. I am also a great fan of Nina Simone, Dinah Washington and Peggy Lee, as well as a whole slew of past and contemporary singers like Sophie Milman, Norah Jones, and Renee Olstead of course.
Stefan: You were born in the Netherlands, you grew up and studied there. Later you moved to Los Angeles. Usually, love is the reason to leave one's home country. Was it the love of music?
Thisbe: Yes, it was the love of music indeed. I had travelled all over the US before, when I was touring with the swing band. Years later I was back in Holland, and I decided to fulfill my dream of recording a solo traditional jazz album. After initially trying to get together with some musicians in Holland, it seemed to me that I really needed to go back to the US to find the kind of players I was looking for. It was going to be either New York or Los Angeles, and I didn't know anyone in New York – I knew two or three people in Los Angeles. So in the end it became Los Angeles. I've met some great musicians here. It's been an adventure.
Stefan: What musical education did you enjoy? They say you play the piano quite well!
Thisbe: Ha ha ha that's a nice compliment, but I actually don't play the piano and I haven't had much of a formal musical education to speak of…. When I was small, I played the harp for five years. I learned the basics of reading music that way but we didn't go into music theory – it was also all classical music. What has really enabled me to sing and write jazz songs is what probably amounts to thousands of hours of listening to oldies music and jazz. After a while you start recognizing what goes on where the song "usually goes" musically, and also lyrically, they tend to do certain things. Having those things more or less ingrained in my head, I just do things that sound logical to me. I imagine Ella Fitzgerald or Peggy Lee standing up there on stage and singing that song, and then I imagine what comes next. Sometimes it comes to me quicker than other times but that's something that often works for me.
But I don't write chords. I write words and the melody, and then I take the song to my piano player and we figure out the chords together. I am studying up on music theory a bit so I may end up writing the chords also one day, however, the words and the melody is what is most important to me.
Stefan: Your first CD "Sophistication" was a huge success in spite of only little promotion. Now you are working on a new CD and you are going an unusual way promoting it.
Thisbe: Yes, well, after the first CD I was fortunate enough to receive a great response from people all over the world through social media, especially on Facebook. So I built up quite a few fans that I communicate with through Facebook and by email. For the second CD I wanted to do something a little bigger in terms of instruments and arrangements, so I asked my fans for help. I basically "pre-sold" the album at different levels, with fans contributing beforehand and in return they get to see the whole album-making process, from songwriting to recording and manufacturing. So this new album is basically fan-funded. We are currently 75% there and I am fairly confident we will get to 100% by the time of the album release. I really appreciate all the help and I thought it would also be cool for the fans to see how an album is made, which I also enjoy sharing with them. In terms of promoting this new album – if it is going to be 100% up to me I would definitely put the emphasis on Internet promotion once again, but I am also planning to do a little more of a radio campaign this time if I can.
Stefan: You provide your fans insight into the creation process of your new musical work. When I read your blog I notice that you give some serious thoughts to the selection of songs. What is important to you?
Thisbe: In general I like to pick songs that are uplifting or have some kind of humorous, unserious feeling about them. I also like to pick songs that swing, even if it's a slow swing. For example "The Frim Fram Sauce", or "He's A Tramp" – which is going to be on my new album. Those could definitely be considered "Thisbe Vos" type of songs. Also, especially when writing, I think about the audience and what I would want to hear or feel if I was someone in the audience. At the same time I think about what I want to say and what suits my voice. It's definitely a combination of things. And if I do a standard, I have to feel that I can contribute something to that song. If someone else has already done it to a point that can't be surpassed I am inclined to just leave that song alone. When I write new songs, of course I don't have to think about that.
Stefan: It is great to see that you always work with first-class musicians. I think some of them have had some pretty amazing careers in jazz themselves.
Thisbe: I've been lucky to be able to work with incredible musicians. The guys that I worked with on the Sophistication album, three of them are jazz veterans with over 50 years of experience each. They have been on Gold records and have played with many well known artists, like Ella Fitzgerald, the Count Basie Orchestra, Stevie Wonder, etc etc. In fact one of my musicians was in Renee Olstead's band when she first started in jazz – he has fond memories of her. All the musicians on the album are amazing, and they were a huge part of making the album come out the way it did. And I will definitely be using them again on this album.
Stefan: Thisbe, let me ask a few private questions. How do you spend your leisure time? What are your hobbies?
Thisbe: Mostly, I would say that my hobby is my work. Even when I am not directly performing, songwriting or recording, I spend a lot of time figuring out ways to promote my music on the Internet, and I am in touch a lot with my fans, which I enjoy. But in terms of real "leisurely activities" I do some gardening here and there on the patio behind my apartment. On the weekend, sometimes I go out to the beach areas around where I live, I like to walk on piers (of which there are many in this area), go to an aquarium or go whalewatching, things like that. I also like to watch British TV shows, like Fawlty Towers and Are You Being Served. And European movies – we just saw a great French movie, "Les Intouchables".
Stefan: Do you listen to other kinds of music? Or is it all jazz?
Thisbe: No, I listen to all kinds of music. I think that keeps it fresh when I do listen to jazz. I grew up listening to oldies from the 50s to the 90s, and I think that helped me a lot in understanding what sort of developments popular music has gone through since the jazz era. I still listen to that station on the Internet. I love all kinds of music, for example Sting, The Beatles, Enya, Laura Pausini, it's just that when it comes to me singing and writing music for other people to enjoy, I feel that traditional-style jazz is my best match.
Stefan: Are you interested in sports and do you have a favorite team? Do you do sports yourself?
Thisbe: I'm not a big sports person, and I don't have a particular favorite sport or team. I will be watching bits and pieces from the Olympics however. I especially like to watch the women's gymnastics section of the summer Olympics. Not a sport I could ever do but it's beautiful to watch. During the winter Olympics I always watch the speedskating (I am still Dutch after all….).
Stefan: Ok, back to music. Will there be a tour (national or international) for your new album? Are there any plans yet?
Thisbe: There are no particular plans yet. I have been getting some booking offers from clubs and places in different areas, even in Europe, but not enough to string a tour together yet. I expect there will come a point where I will be able to pull it off, and I look forward to that. In terms of album promotion, the focus will definitely be online. It has been great for me so far, and I really enjoy connecting with people I would never otherwise have met, and everyone around the world being able to participate at the same time in things like the album release.
Stefan: Thisbe, thank you very much for this interview. We are very excited about your new album and hope you enjoy working on it. And I'm sure it will be a great success. Thank you very much!
Thisbe: Thanks very much for having me – I appreciate it!
Please visit Thisbe's official website and meet her on facebook!
(many thanks to my friend Peter Schuricht for his help and support)
---
Thisbe Vos
just a few keywords:
Born close to Amsterdam, Netherlands.
Lives in Los Angeles, US.
Makes music since she was 7 yo.
Loves "jazz standards".
Inspired by Ella Fitzgerald.
---
House of Make Believe
---
After You've Gone
---
When I Come To You
---
"Sophistication" music video
(a tribute to sophisticated men in classic films)
---
My Baby Just Cares For Me (Nina Simone)
More videos on Thisbe's YouTube-Channel. You shoud subscribe now!